펄스UV 수처리 기술 (PULSE UV WATER STERILIZATION SYSTEM)

GENERAL
Model RS-4000 uses pulsed UV light sterilization technology pioneered by the XENON Corporation.
A revolutionary pulsed UV lamp at the heart of the system fires pulses of light that are 50,000 times brighter than sunlight, and are powerful enough to kill high levels of all microorganisms and significantly reduce TOC.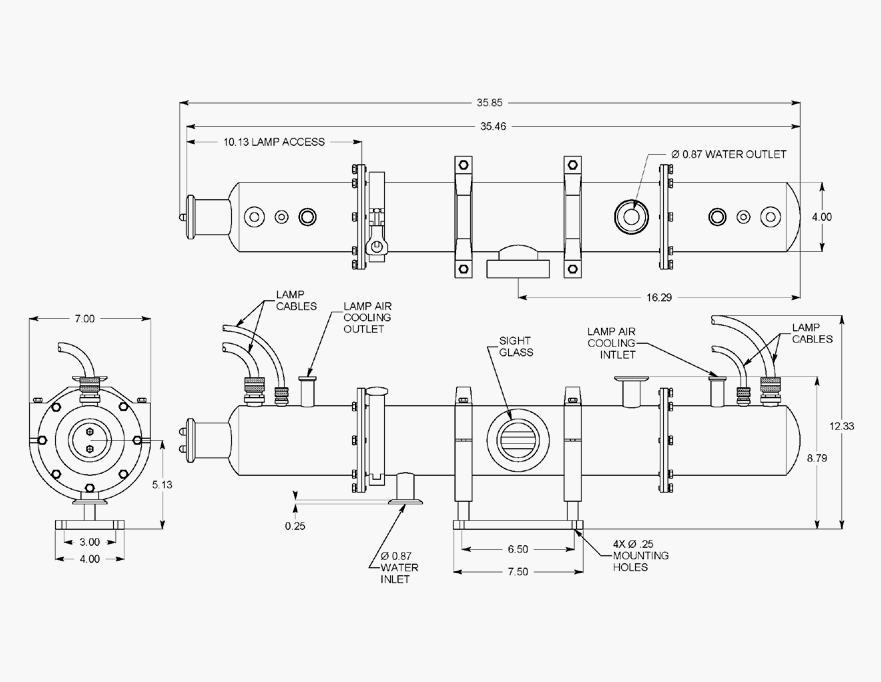 FEATURES
• 100% kill of microorganisms - Unique pulsed UV lamp delivers unprecedented levels of concentrated
UV energy.
• Short pulses prevent excessive heat build up and achieve rapid sterilization.
• Pulsed characteristics of high peak power deliver superior penetration for the destruction of microorganisms at deeper levels.
• No toxic materials such as mercury or microwaves are involved
• Fluid flow is contained in 316L Electro-polished Stainless Steel
• Electronics and controls are isolated from fluid.
• Model RS-4000 is designed and manufactured by XENON Corporation. Put our high performance, pulsed UV lamp manufacturing expertise to your use.

High Purity Water Treatment System for Producing Deionized Water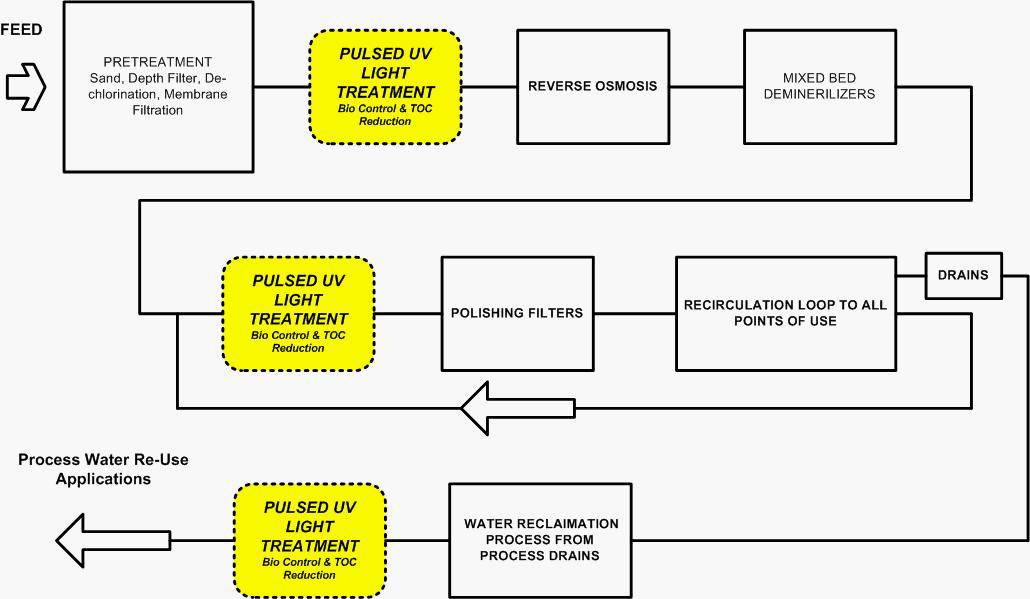 FEED
Feed water is brought into the treatment system from a municipal system or from a dedicated source such as a well or reservoir. This water contains many contaminants that must be removed before the actual processing can begin. Also, the characteristics of the feed water will change seasonally, with levels of bacteria, organics, colloids and other contaminants constantly in flux.
PRE-TREATMENT
Pre-treatment consists of consists of various sand media, depth filtration and course membrane filtration. These processes remove gross mineral contamination (such as iron, calcium), large particulate matter and chlorine from the feed water. It should be noted that sand media filters encourage bacteria growth. With the removal of chlorine, bacteria growth continues later on in the process.
PULSED UV LIGHT TREATMENT
At this point in the process, continuous UV treatment is usually employed to control the bio-burden on the system. Since some organisms will pass through continuous UV treatment unharmed and other organisms will heal themselves after treatment, these organisms will continue to multiply downstream causing bio fouling of Reverse Osmosis membranes and Ion Exchange Resin Beds. Chemical sanitization methods must be used downstream, on a periodic basis, to keep the system clear of organisms. Note, that in the presence of sufficient nutrients, bacteria will multiply by 10,000 each half hour. However, employing Pulsed UV Light Treatment will kill 100% of microorganisms. TOC reduction by Pulsed UV light is also accomplished at this point in the process. Pulsed UV Light Treatment, which removes 100% of the organisms present, will protect the Reverse Osmosis membranes and Ion Exchange resins from bio fouling and reduce maintenance costs.
REVERSE OSMOSIS
Reverse Osmosis, passing water through a semi-permeable membrane at high pressures, is used to remove substances whose molecular weight is greater than 200. The process removes salts from the water in preparation for deionization. Reverse Osmosis uses tangential flow filtration, e.g. the water is passed tangentially over the surface of the membrane. The water containing substances whose molecular weight is less that 200, will pass through the membrane. Some water containing substances with a molecular weight greater that of 200 will pass across the membrane and down the drain. Reverse Osmosis membranes are expensive and are damaged by chemicals used for sanitization, requiring replacement after continued sanitizations. Pulsed UV Light Treatment, by removing 100% of the organisms in the process stream prior to Reverse Osmosis, will extend the life of these membranes.
MIXED BED DEMINERILIZERS
Mixed Bed Deminerilizers, Cation and Anion resin beds, remove the remaining ionic material from the water. What is left is pure H2O, water with a resistivity of 18.2 megohm (for semiconductor processes). Cation and Anion resin beds are a great source of nutrients for bacteria and organisms will multiply rapidly in this environment. Pulsed UV Light Treatment will help prevent bio fouling of the resin beds, resulting in saving on maintenance and replacement costs.
PULSED UV LIGHT TREATMENT
Pulsed UV Light Treatment is employed at this point in the process to control the bio burden and reduce TOC (two separate processes) prior to final filtration. Since some organisms can pass through conventional UV or heal themselves after treatment, these organisms easily foul the final filters. Also, it has been shown that bacteria will grow through the sub micron (0.22u absolute) filters and Ultra Filtration membranes (10,000 molecular weight) used as final or polishing filters. This will cause biological contamination of the Process Recirculation Loop, which will necessitate shutting down the system and using a chemical sanitation process. Pulsed UV Light Treatment will protect the final sub micron filters and Ultra Filtration membranes from bio fouling, thus reducing maintenance costs. This will also have a positive impact on process yields.
POLISHING FILTERS
Submicron filters and Ultra Filtration are used to polish the water prior to the recirculation loop. The water is then piped to all of the processes that use deionized water. Any remaining particulate matter and organism are removed.
RECIRCULATION LOOP
The deionized water is piped through a sanitary system to each point of use within the processing area. The unused water is returned for reprocessing.
WATER RECLAMATION
Water reclamation is a high priority in most facilities, due to the high cost of deionized water production. Deionized water is separated according to its resistivity, and water deemed appropriate for reprocessing is diverted for reclamation. Water reclamation process schemes are similar to the process shown above. Since the water is without the contaminants seen in the feed water, a less extensive purification process is used. This usually includes a mixed bed ion exchange unit, filtration and Pulsed UV Light Treatment.
저온UV경화, 플래시UV, 펄스UV, PULSE UV, XENON FLASH UV LAMP, XENON, DVD BONDING, WAFER BONDING, 제논, 웨이퍼, 표면개질, UV세정, UV CLEANING, 엑시머, EXCIMER 세정, 필름세정, 무전극UV, MICROWAVE UV, ELECTRODLESS UV, FUSION UV,COOL UV, FAST CURING,SPOT UV 자외선 조사기, UV SPOT CURE, 의료기구, 튜브접착, 자동화라인, 고속건조, 자동본딩,살균, 위생, 식품처리, DNA, RNA, 스크린인쇄, 프린팅, 코팅, 점착, screen printing, coating, adhesive, lcd glass, touch screen, film, pmma, UV Curing, Ultraviolet Curing Systems, UV Curing, UV Curing Equipment for Medical Assembly, Medical Assembly, Tubing bonding, UV,UV Rotary Curing, UV Curing Technology, Ultraviolet Curing Technology, Automated Process Lines, Disk Drive HGA Bonding, High Speed Automated Curing, High Speed Automated Assembly, Ink Jet Cartridge Manufacturing, Automated Bonding